Me new thread yay. here, you can put some drawings that have stories with them. Mine is called Blossomfeather's Travels. there is a list. please put your number for your stories, like mine is 1. If someone makes one after, they will put 2 on each of their posts. If they forget to put a two on their post, Then you dont get the daily 'writingdrawing cookie!' lol. if u get 5 cookies, I give you a writingdrawing reward. if you get ten, you get a better prize, and so on. so here's mine:
1:Blossomfeather's Travels (DragonEye)
1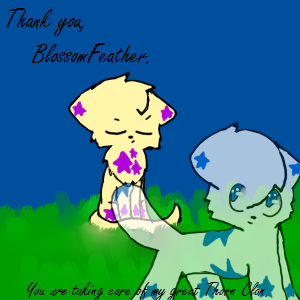 Blossomstar looked up into the sky. Ever since Lightningstar had died, Blossomstar was left as the clueless leader. She wasn't even ready to serve her clan this way! It looked so easy when Lightningstar lead. But to Blossomstar.... What were she to do? She was lost.
one."Oh Lightningstar, I need some answers. What do I do when I am leader? Oh, why did tigerstar have to go and kill you!" Blossomstar said to the stars. She closed her eyes and concentrated as she awaited her answer. She heard nothing for a moment, then a breeze past.
"You are doing fine, Blossomstar. Trust me. And.... thank you. You are taking care of my great Thorn clan."
'What made her think I wasn't?' Blossomstar thought as once she felt Lightningstar's presence fly off with the wind.
Stories: 1:Blossomfeather's Travels (DragonEye)
2:A change of heart (Landscape)
Last edited by DragonEye on Mon Jun 13, 2011 1:20 pm; edited 2 times in total
I'll try!
2: A change in heart
2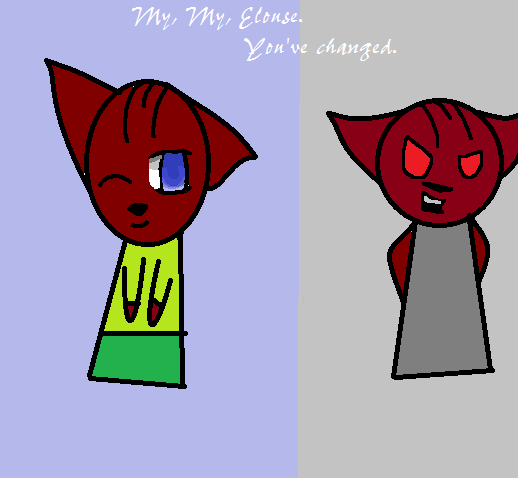 Eloise looks in the mirror and sighs. She was so different now. Years ago, she was laughing like a freak on the computer as she attempted to ruin the internet. Now she was different. She brought peace to the world. Her mother walks behind her and puts a firm, loving hand on her daughters shoulder.
"Look at you, you're so grown up now."
New Spark




Posts

: 6


Join date

: 2011-06-04



O_O..... I cant say nothin to that. Anyway, 1 cookie for you!
1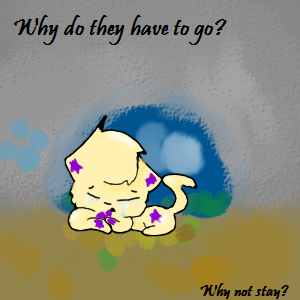 Blossomstar lays in her den, forlorn of the death of her friends. Dreamfoot hadn't returned for a while; Blossomstar was worried she got caught as well. She feels a hint of presence from Lightningstar, but it quickly fades. Blossomstar sighs and turns to look towards the back of the cave. There was Lightningstar's paw print on the wall.
Right beside Blossomstar's paw print. Blossomstar's eyes fill with tears as she has the chilling memory of Tigerstar clawing Lightningstar repetedly. She blinks the tears away, and quickly falls asleep to rid the frightning memories.
Ik D: No dialogue in here. I sorry :c
Yo, B, you SO need to make a roleplay of this! Thorn clan roleplay would be AWESOME.
....Then Im still gonna have to wait til u get ur comp ready so u can get on freaking FeralHeart.
By the way, can you draw Dreamfoot? I love when u mention me c:
New Spark




Posts

: 6


Join date

: 2011-06-04



Sure I'll draw you, but with Lightningstar in the bg.....
EDIT: Here you go! I was trying a new sparkly style.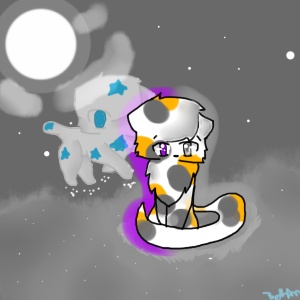 I do hope u also realize I'm not Lightningstar, Im Blossom. I just love drawing Lightningstar there, but Lightningstar is N.

Btw, now I'm drawing Blackwhisker (ur creepy and somewhat evil warrior cat O_O)

---
Permissions in this forum:
You
cannot
reply to topics in this forum